Detroit, Michigan - May 22-25, 2023 - The Automate 2023 exhibition, held in Detroit, Michigan, is in full swing. IPLUSMOBOT, a leading high-tech company specializing in autonomous intelligent mobile robots, has made its debut in the North American market, showcasing its series of intelligent mobile robot products and solutions designed specifically for smart manufacturing factories. IPLUSMOBOT can be found at booth 3839.
Formerly known as the International Robots, Vision & Motion Control Show, Automate has a rich history dating back to 1977. Now in its 20th edition, it has become the largest automation technology showcase in North America.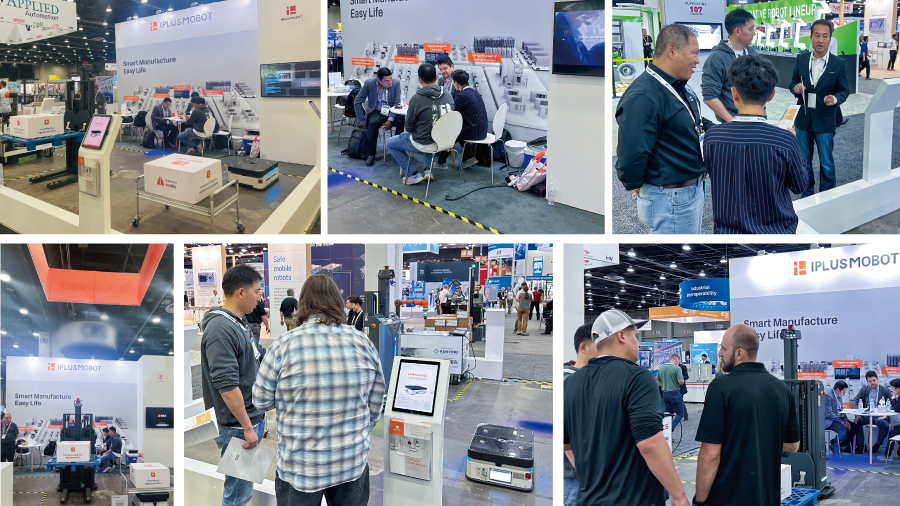 In recent years, the Autonomous Mobile Robot (AMR) market has experienced rapid growth, with applications expanding across various industries. IPLUSMOBOT, with its seven years of expertise in intelligent mobile robot product development and production, has delivered thousands of AMRs globally, servicing over a thousand projects.
At the Automate exhibition, IPLUSMOBOT has gained significant attention from industry professionals by providing tailored products and solutions that meet specific customer needs.
IPLUSMOBOT' EMMA and FOLA series are popular models in the manufacturing factory logistics application. Thanks to their safe, flexible, and reliable performance, thousands of EMMA and FOLA robots are working alongside human employees on production lines, assisting with repetitive, heavy, and complex material handling and loading/unloading tasks.
One of the highlights at the IPLUSMOBOT booth is the EMMA 400L, which can navigate through narrow passages as narrow as 70cm. Equipped with various tools such as robotic arms, rollers, and lifts, it effortlessly automates the transportation and loading/unloading of different materials and finished/semi-finished products between different production processes.
The FOLADN1416, a pallet stacker unmanned forklift with a maximum load capacity of 1400kg and a lifting height of 1600mm, demonstrates intelligent pallet stacking through its 3D environmental perception and visual detection capabilities. When integrated with a scheduling system, it enables flexible scheduling and path planning for multiple vehicles and scenarios in user workshops, greatly improving cargo loading and unloading efficiency.
IPLUSMOBOT is committed to collaborating with automation integrators in North America, providing stable, reliable, high-performance, and cost-effective products and services. Together, they aim to drive the advancement of intelligent mobile robot products and create more value for global intelligent manufacturing.
Stay tuned for more updates from Automate 2023 and IPLUSMOBOT.